Apelon's professional services team helps you maximize the value of your e-health investments with Terminology Asset Management(sm), a full-lifecycle medical data governance program.
The Problem
You've done everything right… successfully implemented electronic data capture systems, created new data exchanges, and spent a lot of money in the process. But how do you take advantage of all that data to improve health and manage costs? How do you ensure that you are staying on the right path in the face of a constantly changing regulatory and standards landscape? How can your team discover what they can do with these powerful new data resources?
The Solution
Apelon's Terminology Asset Management program is a full-lifecycle approach to the governance of structured data resources in electronic medical records. Our experienced consultants work with your team, and your information ecosystem, to maximize the value of your structured data resources including terminologies, clinical information models, and document/messaging standards.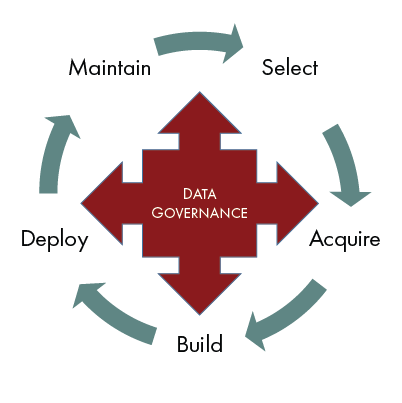 Apelon's data governance approach focuses on balancing three key elements for a successful implementation:
Applications and systems that capture, store, transform and serve data
The set of terminologies and standards you implement
The people and processes you put in place to manage your data assets